Are you using the free version of Wallit, but curious to see what our other plans are all about? You might be interested in a free trial of the Plus plan.
Benefits of a paid plan
When you start your free trial, you'll be able to try out all of Wallit's paid features, including the following:
Unlimited wellness reimbursements for your entire company
Access to all wellness categories
Custom monthly allowances
Real-time, advanced analytics
Tip: Read more about what the Free plan and Plus plan include.

Request a trial
If you're a Wellspace Owner or Admin, contact us from the email address you used to sign up for your wellspace to request a free trial. You won't need to add a credit card to start your trial and you won't be charged unless you choose to upgrade your wellspace to a paid plan.
What to expect when your trial ends
How you're billed
Once your free trial ends, you'll only pay for the members that are active in your wellspace, based on our Wallit's Billing Policy. If you have any available credits, we'll apply those to your account before billing you for either a monthly or annual plan.
Tip: View your wellspace's billing history to see any available credits and their expiration dates.
Downgrade back to the free plan
If you've upgraded but change your mind before the free trial ends, you can return to the free version of Wallit. Learn how to change your plan.
If you downgrade after the end of the trial, our Terms of Service apply. You can cancel at any time, and no further payments will be taken, but we do not refund payments already made.
If your free trial ends, but you choose not to upgrade, you'll move back to the free version of Wallit and can continue using it for as long as you'd like. Here's what to expect:
| | |
| --- | --- |
| Wellness Reimbursements | The wellspace reimbursements per month for the free version of Wallit will be reapplied to your wellspace. |
| Monthly Allowance | Custom monthly allowances for individual team members will immediately be deactivated. You'll be asked to pick one monthly allowance amount for your entire team. |
| Wellness Categories | Wellness categories you selected for your wellspace will be deactivated. You'll be asked to select up to six categories for your entire team. |
| Cash Back Offers & Discounts | You can continue using Wallit to receive cash back offers and discounts from participating merchants in the Wallit marketplace. |

FAQ
How do I know when my trial will end?
From your desktop, go to your wellspace. At the top of the page, you'll see your trial end date and the option to upgrade your wellspace.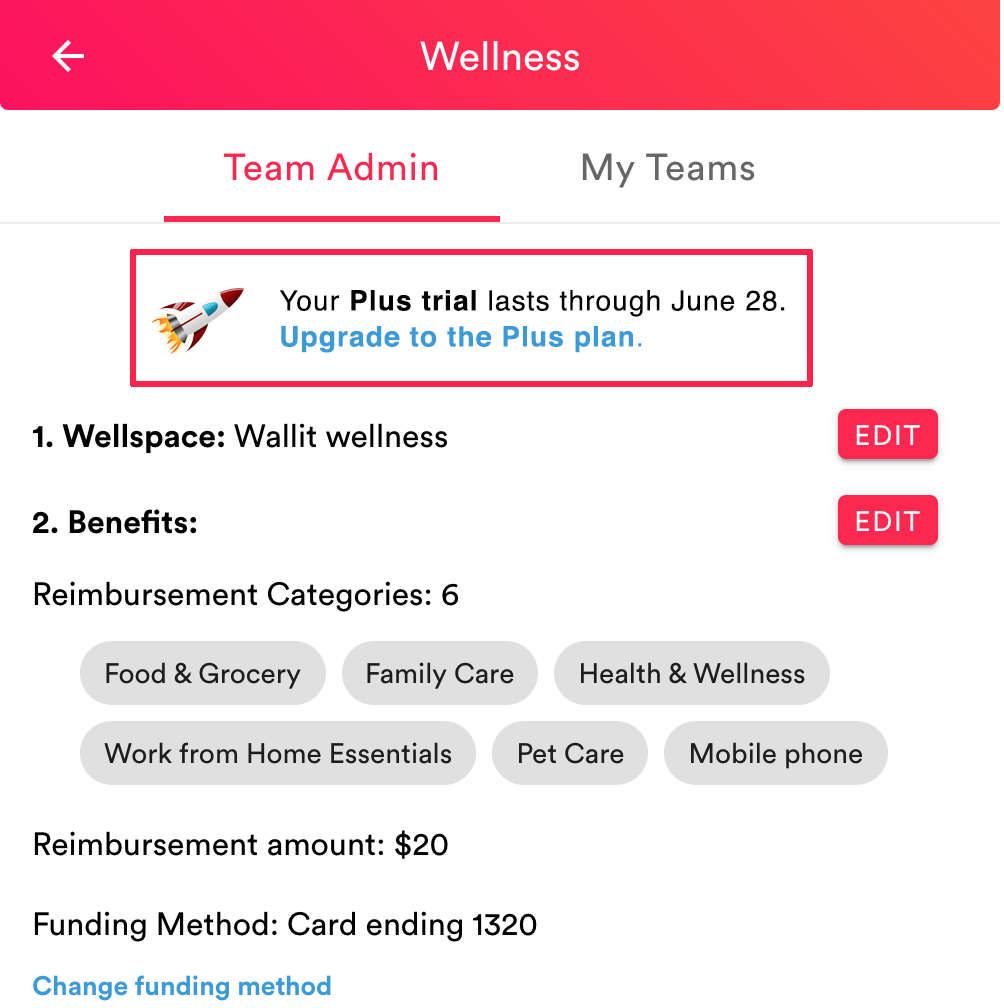 How can I cancel my trial?
Your trial will be automatically cancelled on the trial end date. If you'd like to return to the free version of Wallit before that date, you can contact us.
Can I get a trial extension?
In some circumstances, we can grant extensions. Please contact us with details about why it would be helpful to have an extension and our team will review your request.
Can I defer my trial to a later date?
We're unable to defer trials. However, if your trial ends and you'd like another chance to try our paid features, contact us and let us know which features you'd like to try.