Your quick start guide to Wallit
Welcome to Wallit — a card-linked benefits platform. To help you get started, we've provided a quick tour summary, read on for more details.
Side Menu | Categories | Offline Offers | Online Offers | Accounts

The side menu
From the side menu, you can access your wellness wellspace in Wallit. You'll see a list of categories your Wellspace Owner has selected for you along with the monthly allowance for benefit reimbursements.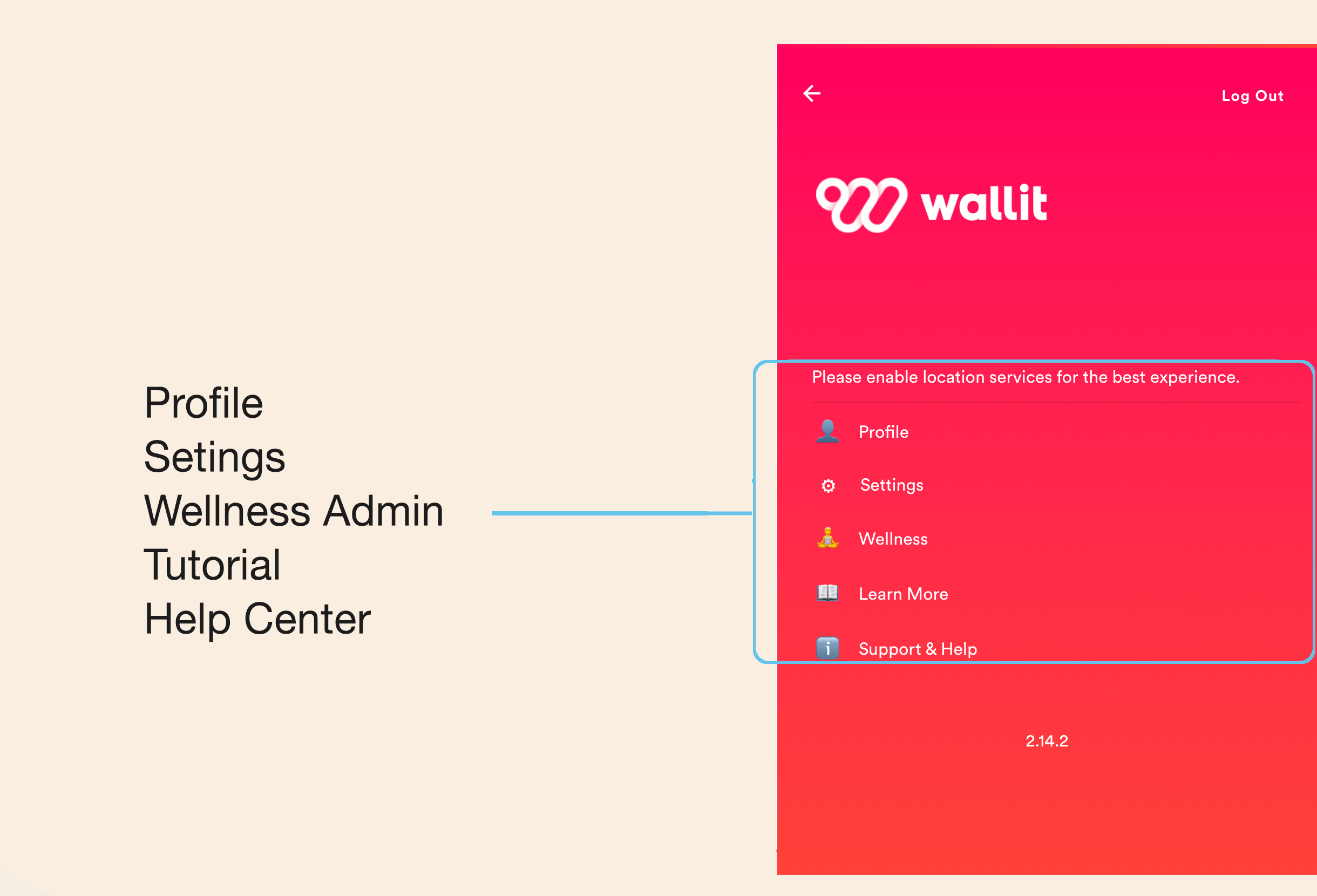 Profile:
On your profile you can track your year-to-date and lifetime cash back with Wallit. You can manage your personal information.
Settings:
You can change your notification settings by changing the notifications toggle to on or off.
Wellness:
In Wallit, wellness happens together in dedicated spaces called wellness wellspaces. Wellspaces bring the right products and services together for any benefit. Unlike most wellness programs, that only appeal to a small subset of your workforce, Wallit is for everyone and scales with your organization.
Learn More:
A quick walk-through of the key features of your Wallit.
Help Center:
Details on how to use Wallit to get cash back for your wellness benefits and everyday spending on your debit card, and other features in Wallit are described in the Wallit Help Center.

Categories
Categories are fundamental to achieving wellness in Wallit — they group products and services from retailers and brands all in one place for you to make qualifying benefit purchases for automatic reimbursement.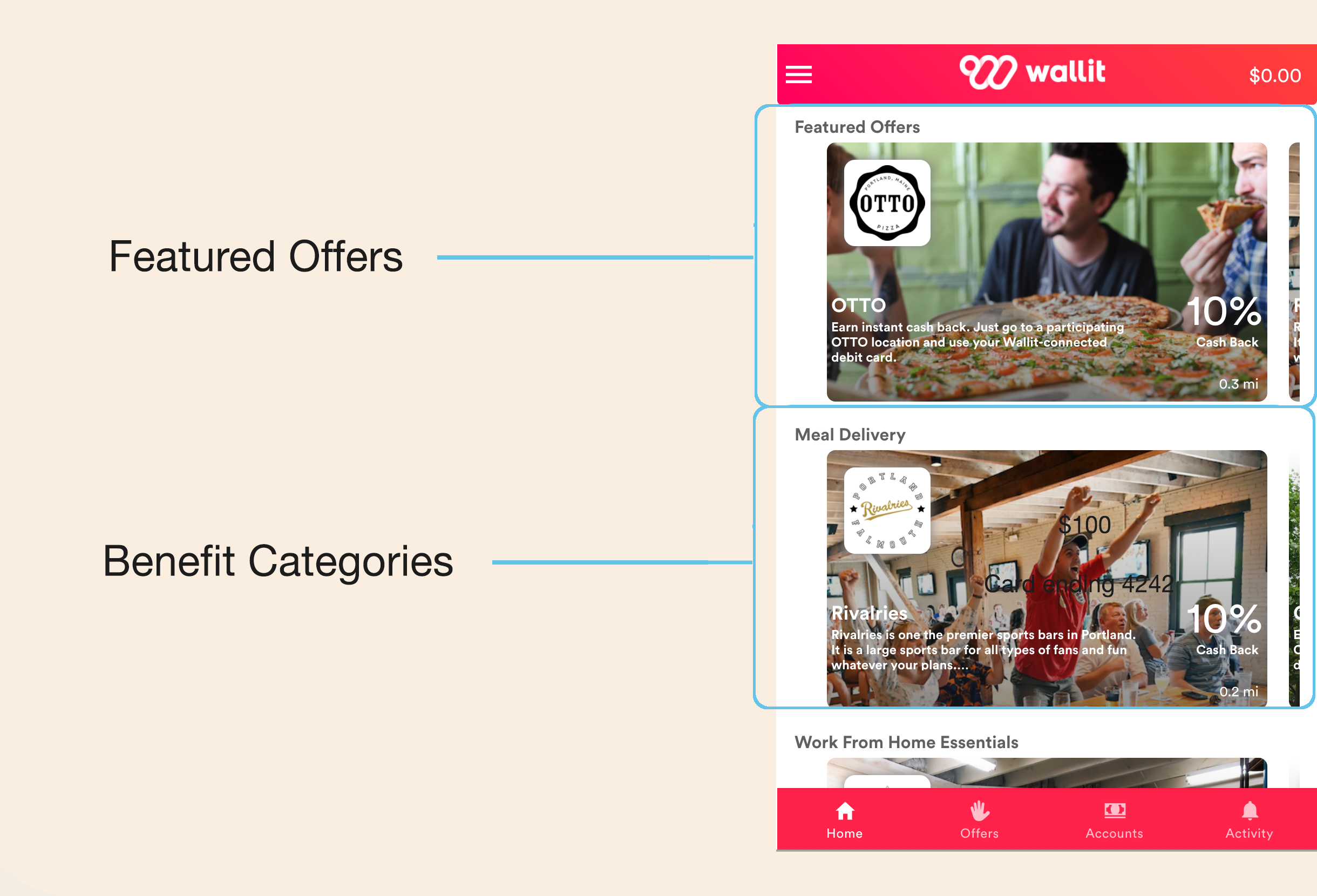 Categories make it possible to easily choose the products and services that matter most to you and your personal preferences to improve work-life balance and overall well-being.
Featured offers are offers from our brand and retail partners and personalized for you based on a number of factors, including your location, your past purchase transactions and the categories your team or organization as selected for your wellspace.

Offline Offers
One of the great strengths of the Wallit platform is the ability to earn cash back for your purchases in-store (not just online). This could be a local restaurant, a national retail chain, or even a farmer's market. Simply visit the local merchant you found listed in the app at the specific street address, pay for your purchase with your connected card, and you will receive cash back after you have made your purchase.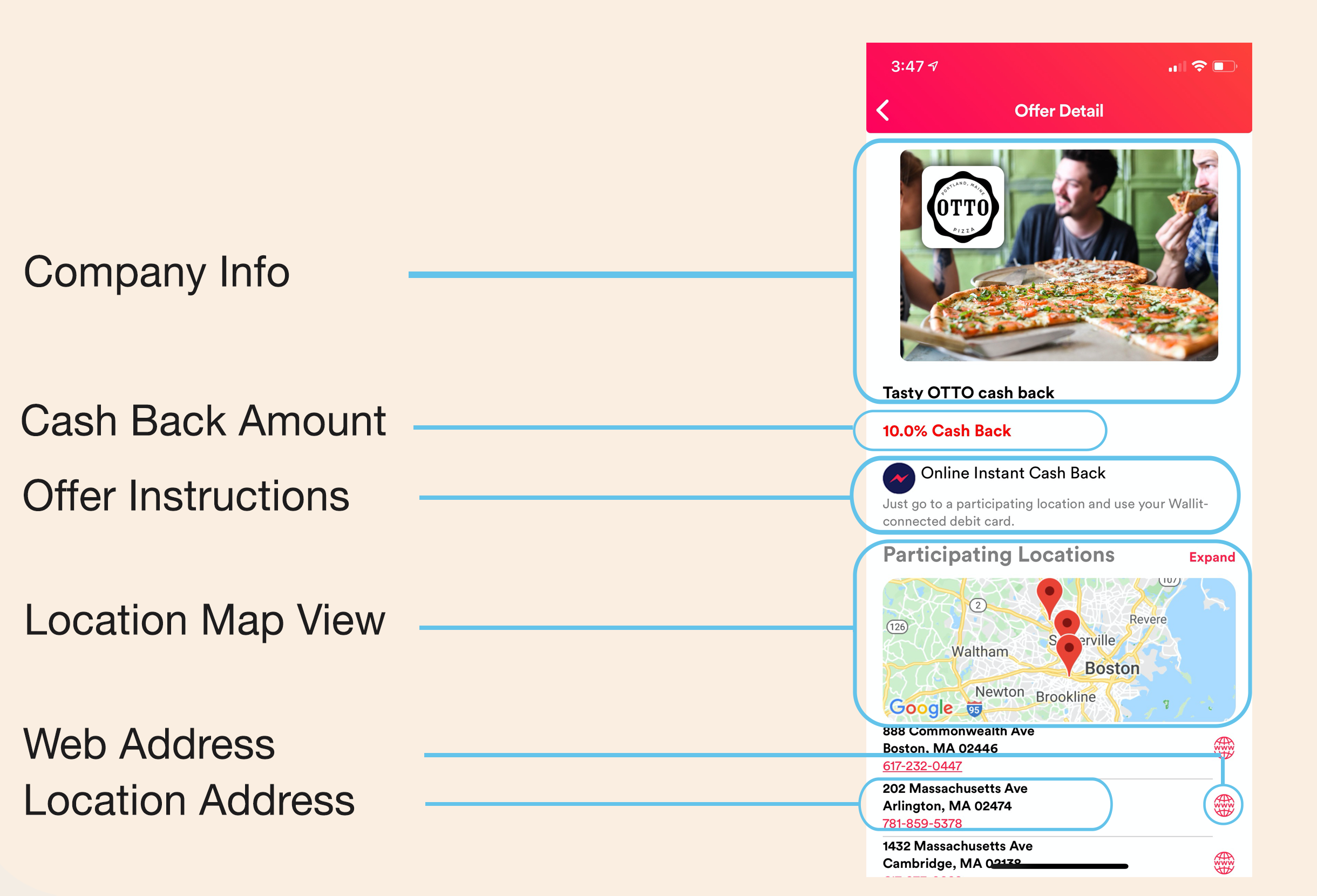 Online Offers
Many offers in Wallit include online promotions. We scour the Internet for the best cashback offers from leading brands and retailers. Just use your linked debit card and we'll stuff the cash in your pocket. Because each offer is different, you'll want to view the offer details to see if a specific offer includes cashback on online purchases. You can find offer details in the Home and Offer sections in the Wallit app.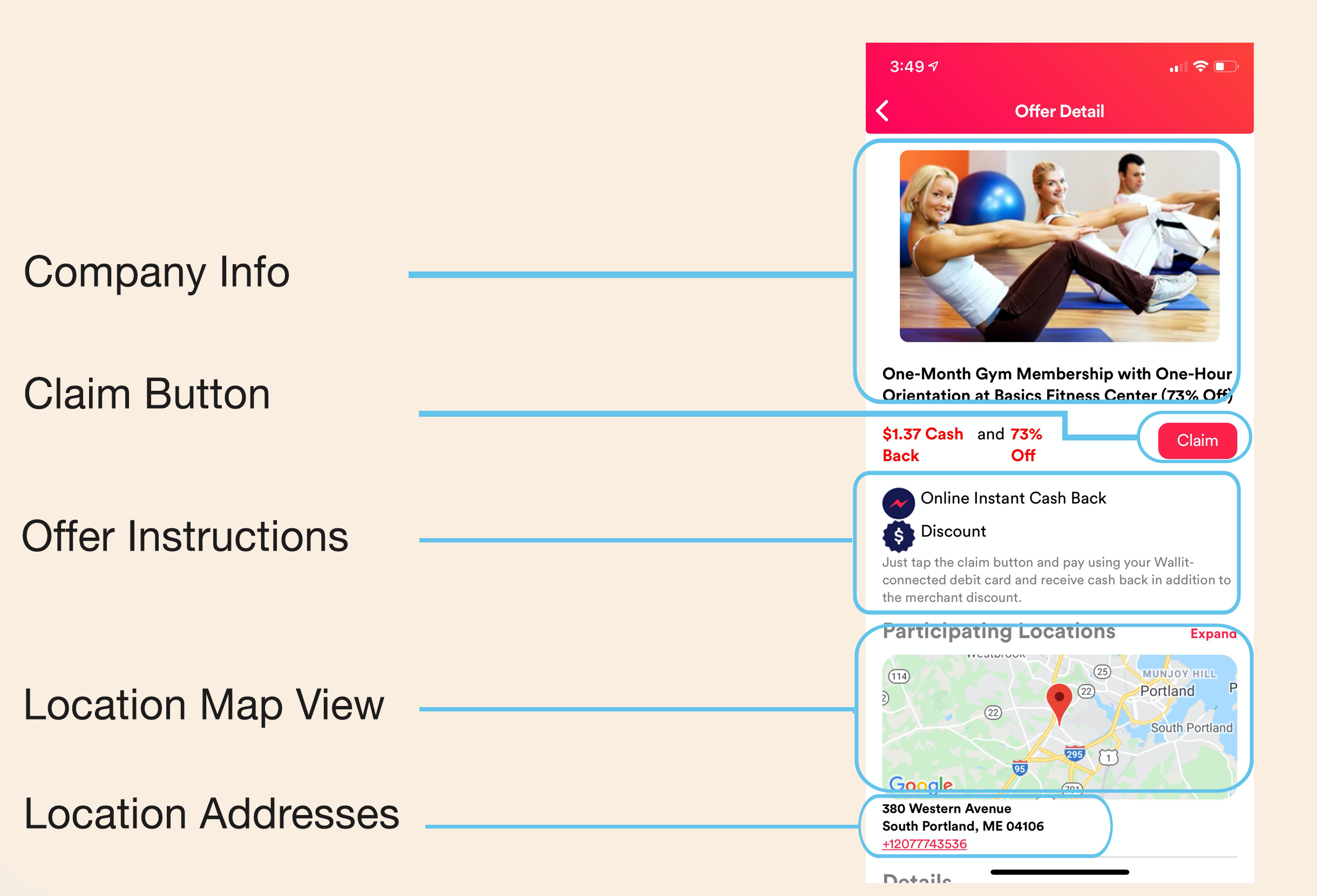 Please note, in order to get cash back for these offers, you'll need to tap the Claim button within the offer in the Wallit App, which will take you to the merchant's app or website, and use a card that's linked to your Wallit account. Tapping on the offers will give you more information and by scrolling down to the More Info & Fine Print section, you'll see any limits, exclusions, or caps that the merchant may have as part of their offer.

Search Offers
To help our members find great offers there is a What's Nearby map, which will show you nearby offers on a map, and if you move the map around to a new area, you can tap the Search This Area button, to show offers in the area you're looking at on the map.
Category view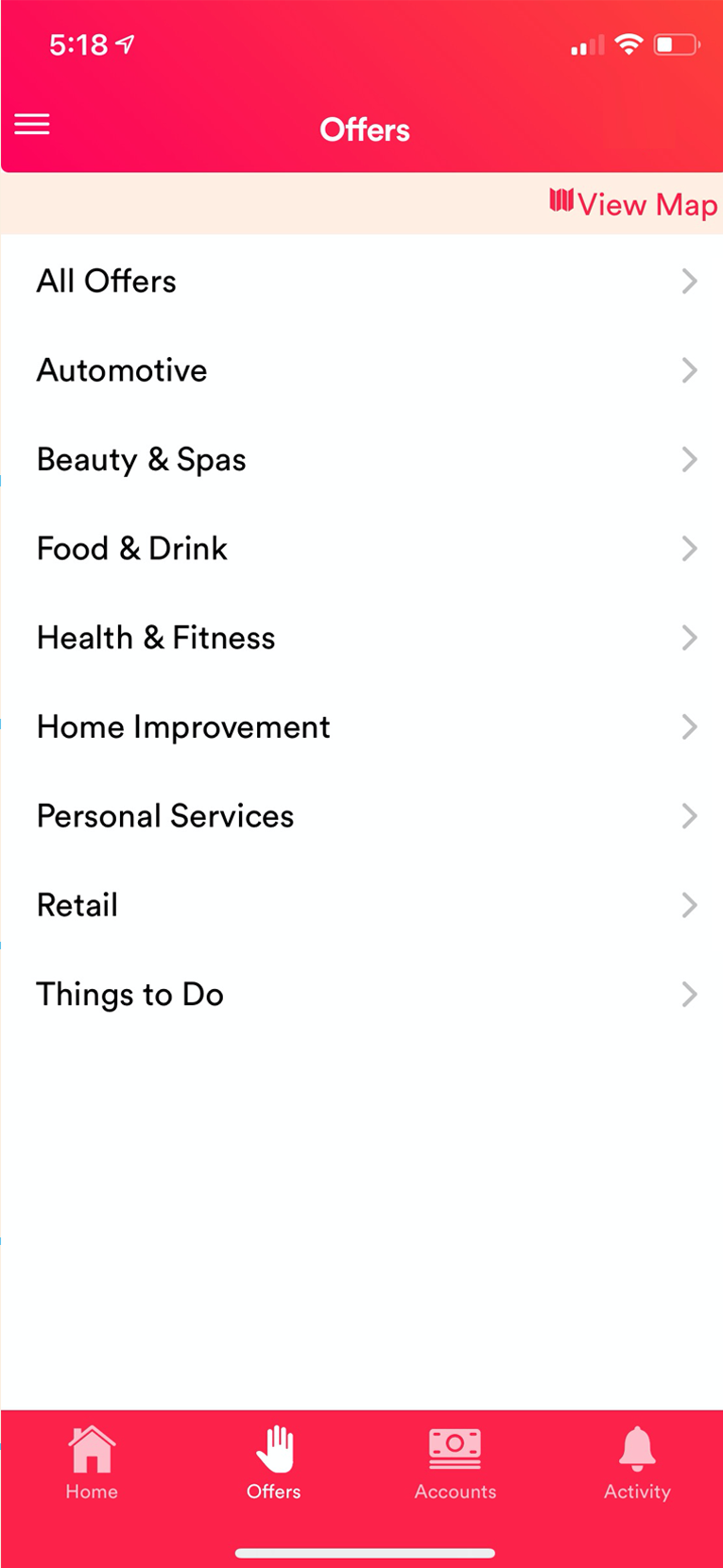 Map view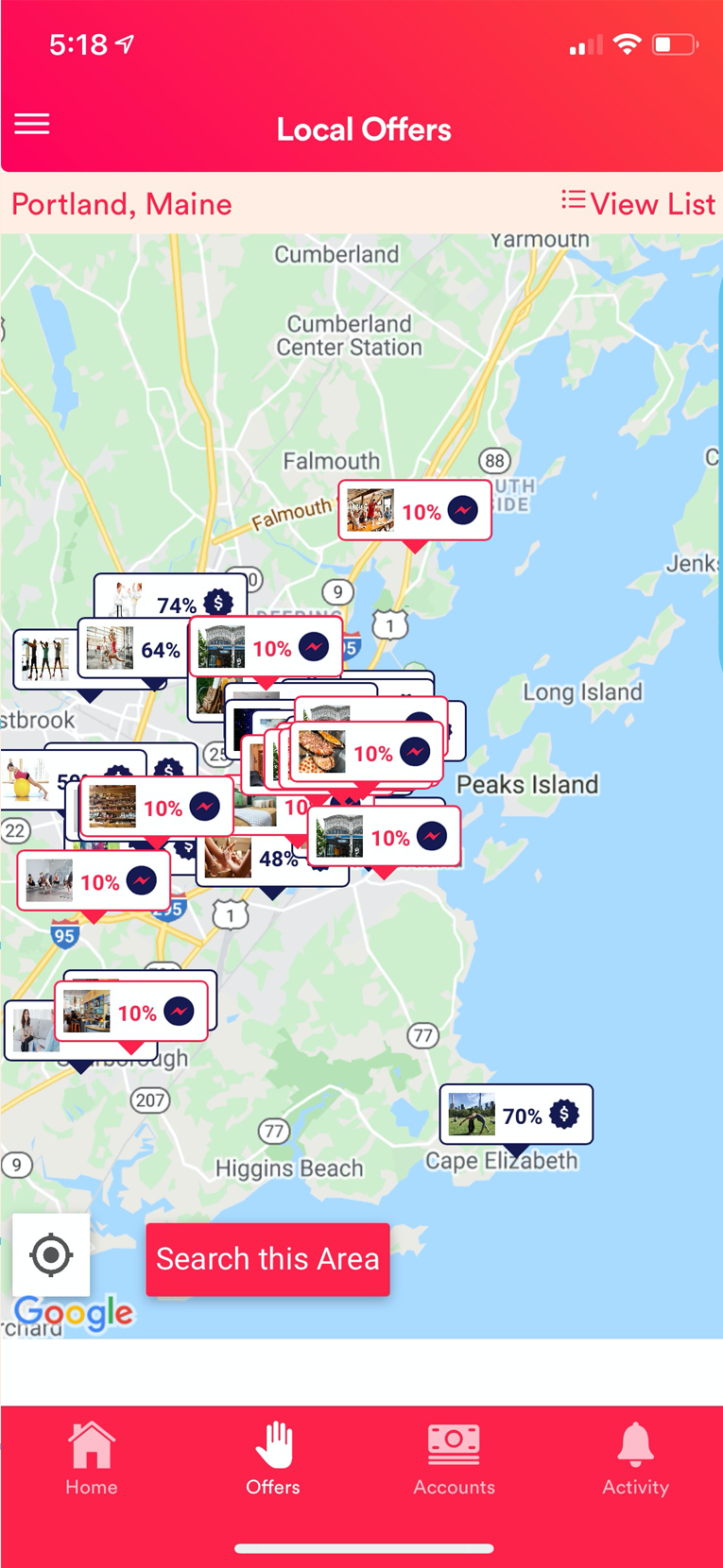 Location services
Note: If no offers are appearing, make sure your mobile device's location services are turned on. Follow the instructions below to turn on your device's location services:
If you are an Android user:
Settings>Personal>Privacy and Safety>Turn Location On
If you are an iOS user:
Settings>Privacy>Location Services>Allow Wallit to Access Location

My Accounts
In Wallit, the My Account tab enables you to aggregate all your checking and savings accounts. This makes it easy to access your balances and transactions without having to go to multiple places.
When you connect your checking account, you are linking your debit card which enables you to get automatically reimbursed by your employer-funded monthly allowance as well as receive cash back from our participating brands and retailers
You will also be able to create savings goals and access Wallit's automated budgeting feature that takes the guesswork out of balancing a checkbook so you can stay on top of bills. It's a better way to track your spendable money and stay ahead.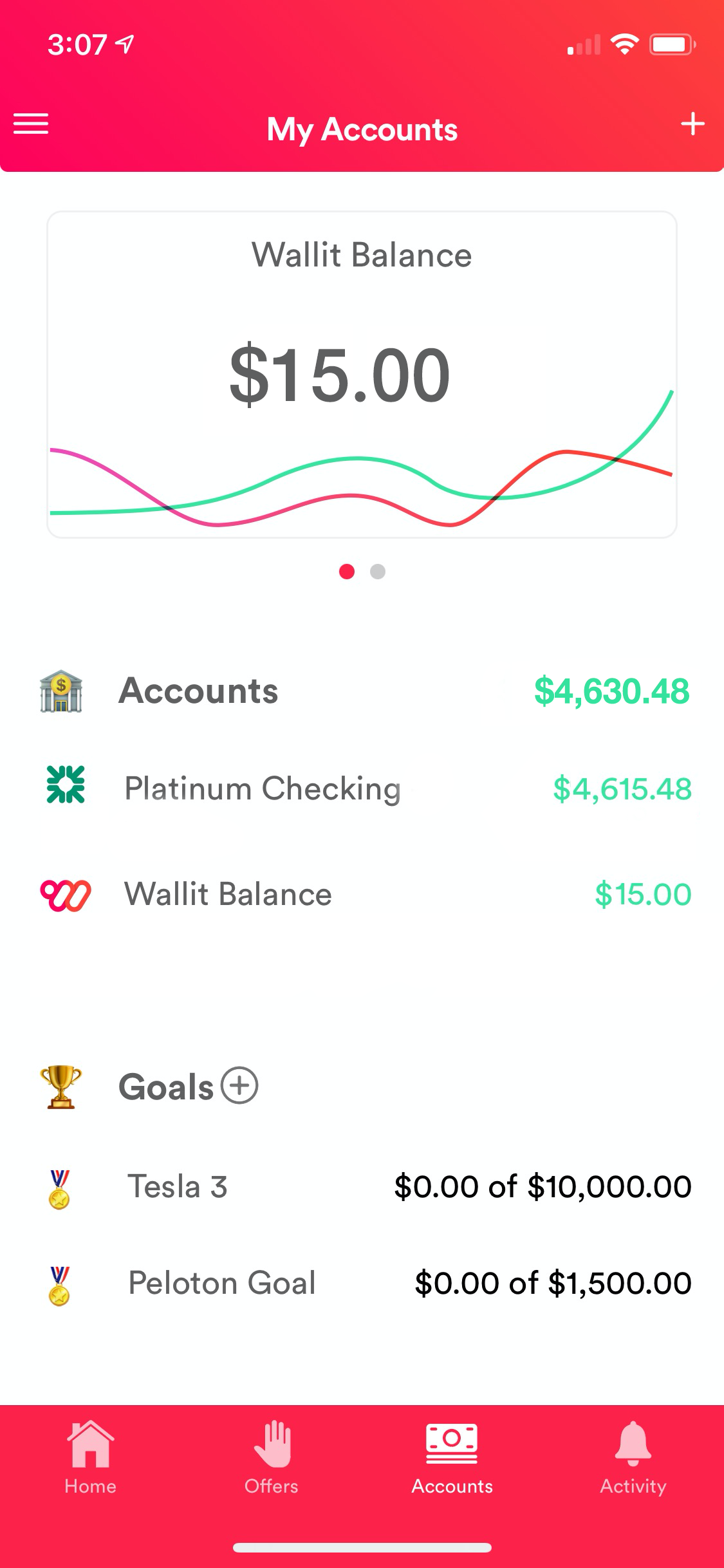 Tip! Learn how you can accumulate and save your employer-funded monthly allowance to achieve your savings goals, like saving for a vacation, a car, or your rainy day fund.
---
Wallit
Where wellness happens.