Our mobile apps are designed to complement your Wallit desktop experience. Keep reading to get an overview of our mobile apps for iOS and Android smartphones.

Menu button
Use the main Menu button in the upper left hand corner of your screen to quickly access your profile, settings, and your wellspace.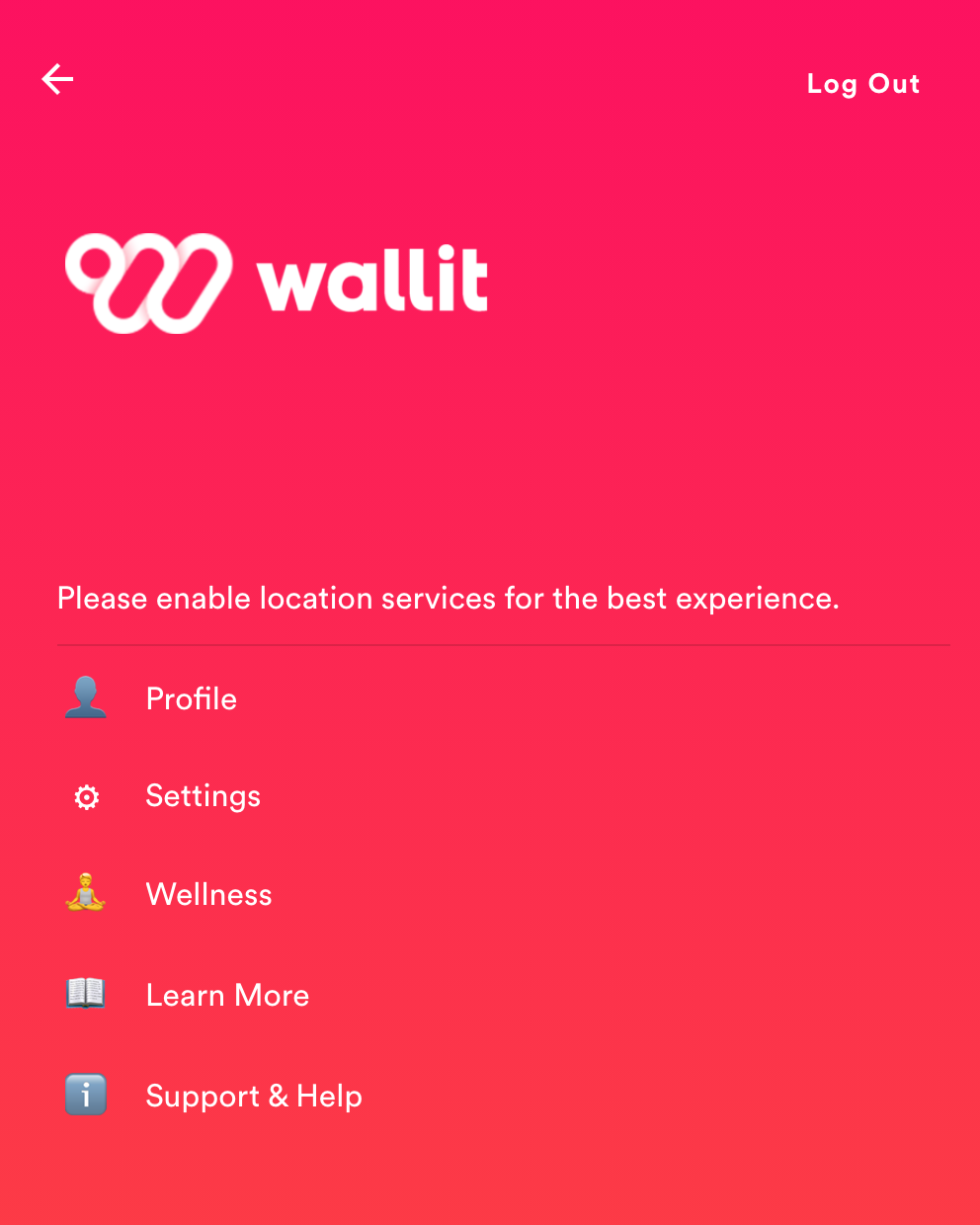 Wellspace
From the Wellness menu option, you can manage your wellspace in the Wellness menu option.
Profile
From the Profile menu option, you can check your total year-to-date and lifetime cash back in your Profile, edit your profile, manage your notifications, and update your preferences. You can also access the Wallit Help Center. Hey, you're already here!

The tab bar
Use the bottom tab bar to switch between featured offers, search for offers, and access your checking and savings account balances and transactions.
Home page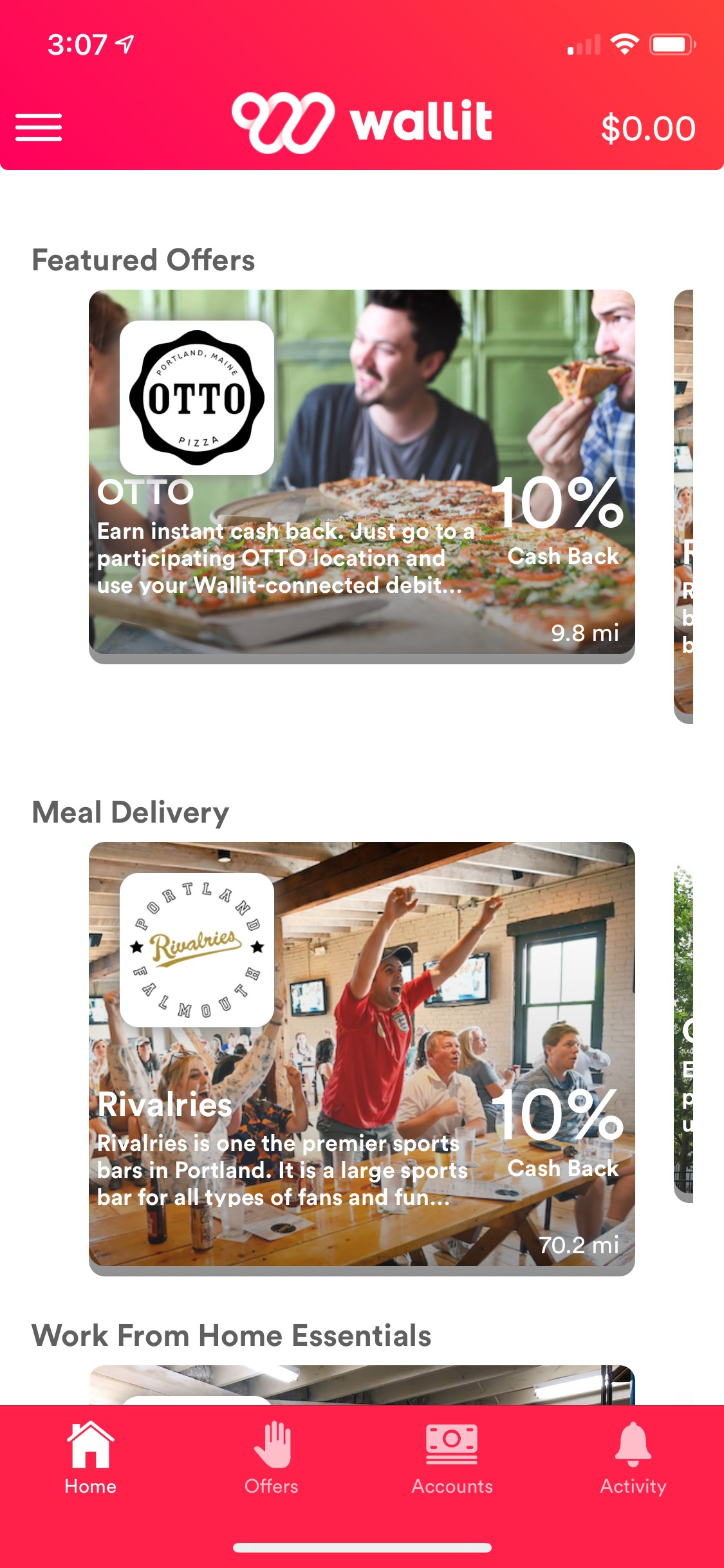 Home
Tap the Home tab in the bottom-left corner to access your personalized offers, featured offers, nearby offers, and offers by wellness category. Scroll left and right on each of the offer bands to view your personalized offers
Offers page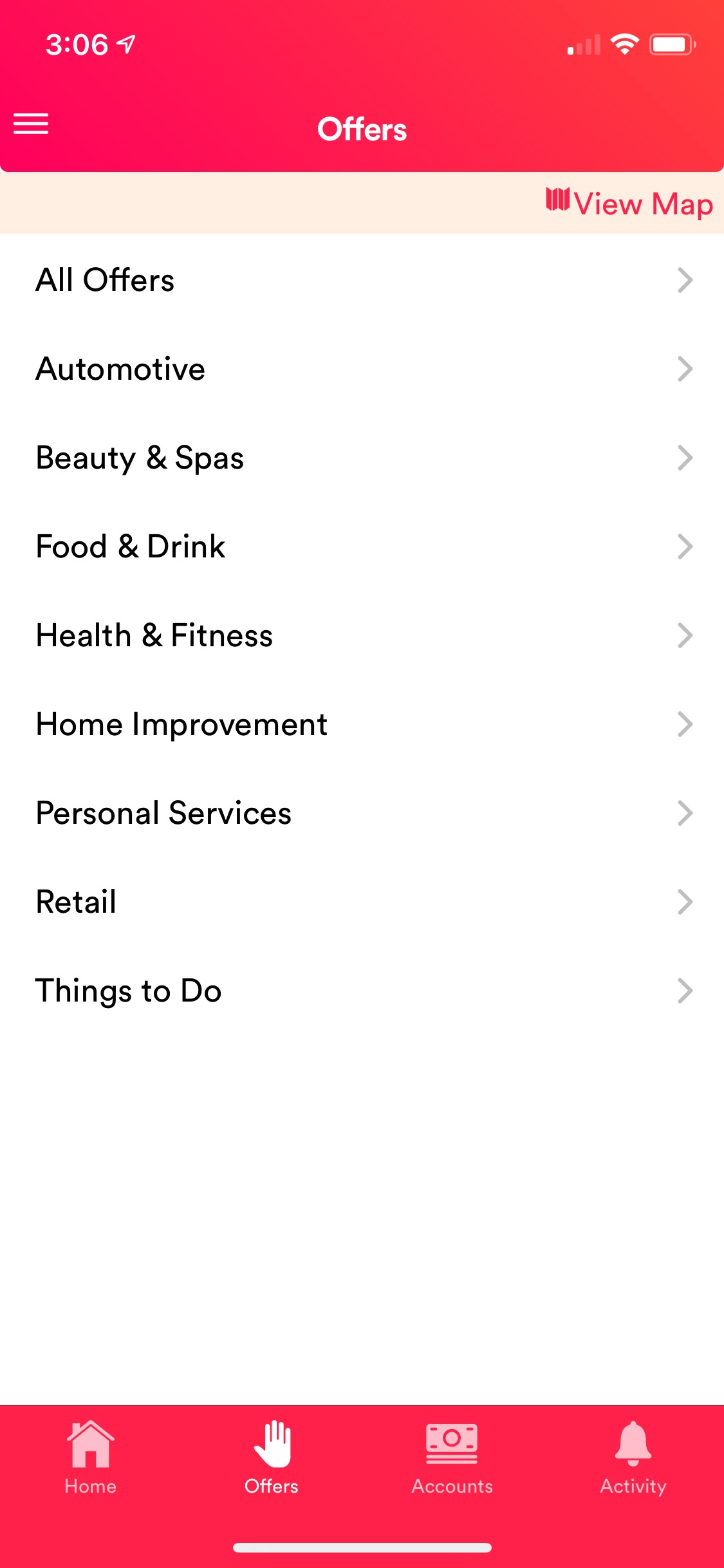 Offers - List View
Tap the Offers tab Search all of the cash back and discount offers on Wallit in a list view format. You can search by category and sub-category to discover things to do, places to go and spots to eat near you.
Offers - Map View page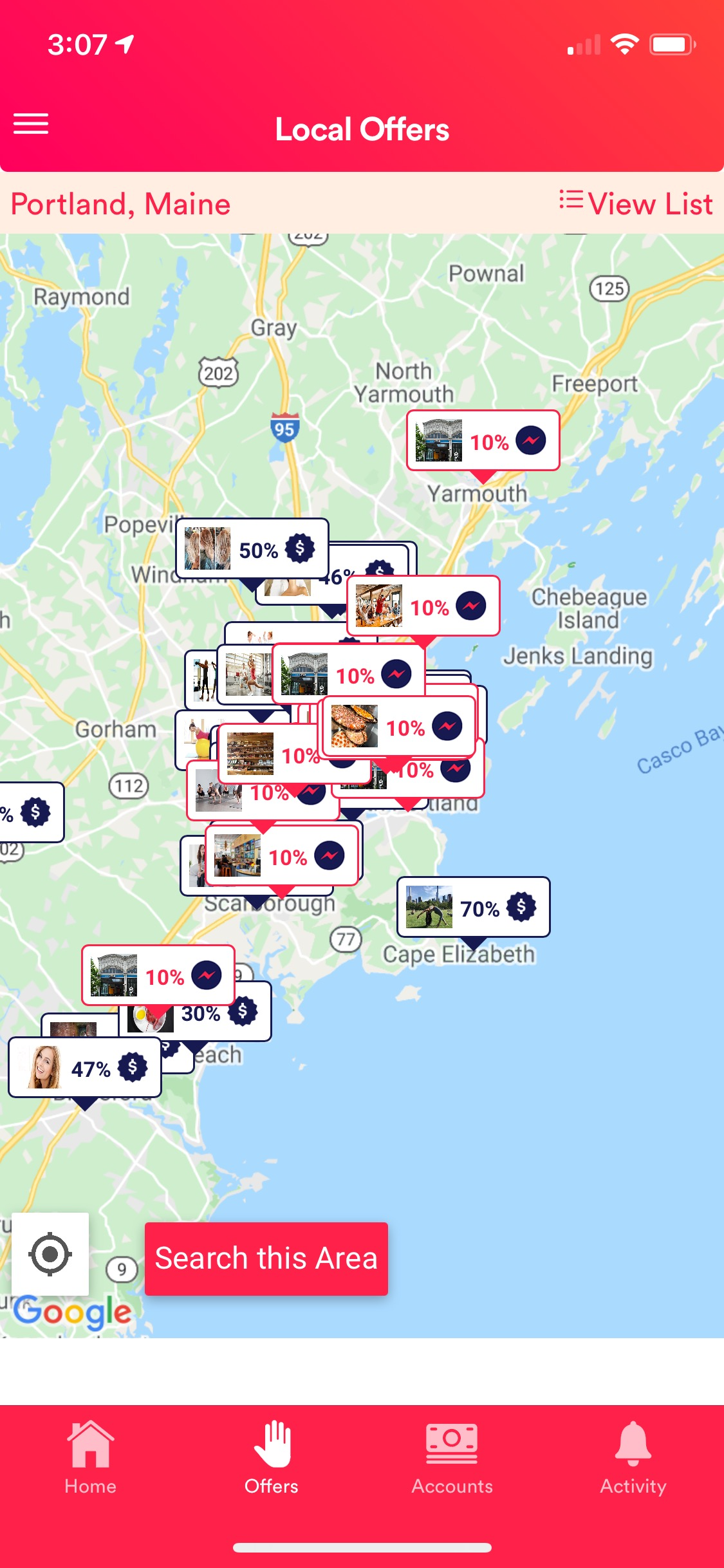 Offers - Map View
On the Offers tab Tap "View Map" on the upper right corder to use the What's Nearby map, which will show you nearby offers on a map, and if you move the map around to a new area, you can tap the Search Here button, to show offers in the area you're looking at on the map.
Accounts page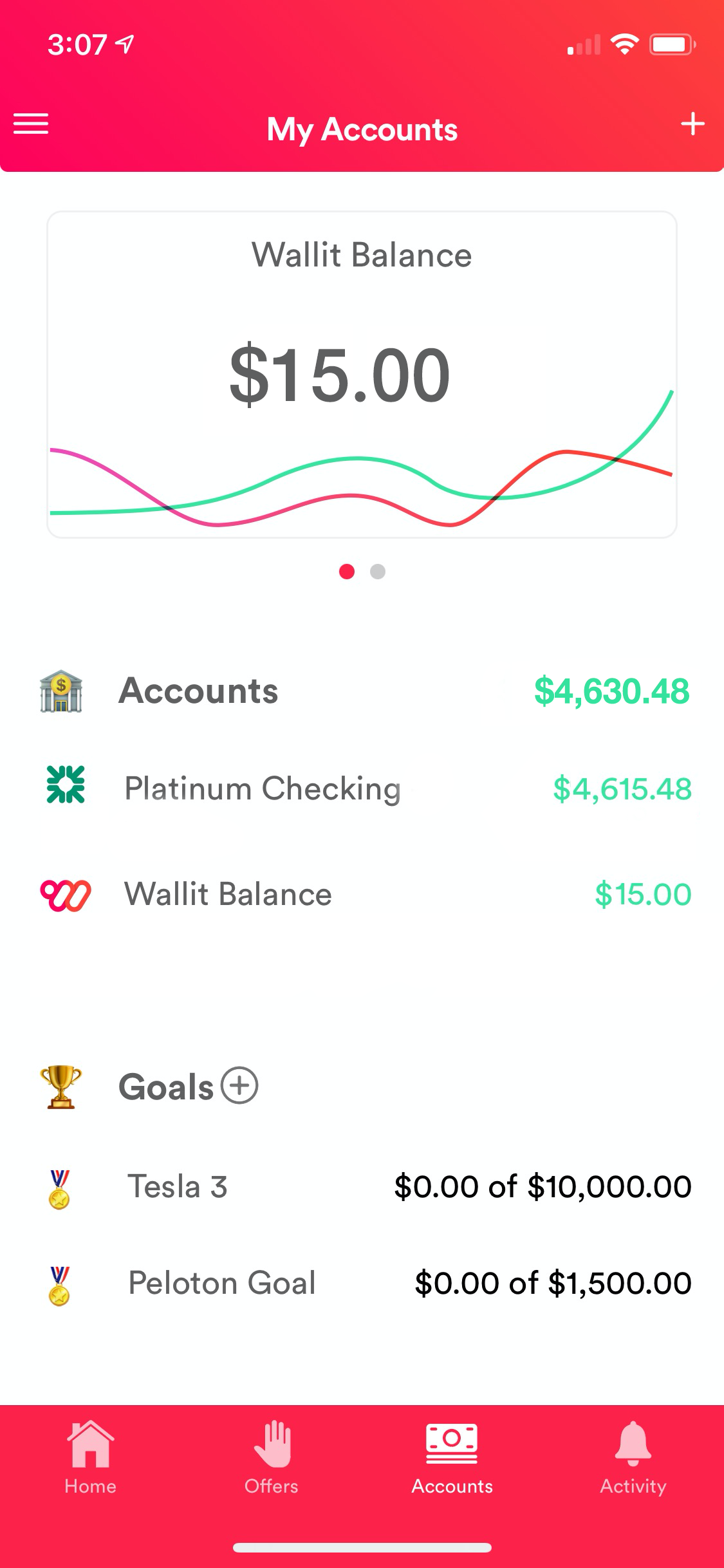 Accounts
Use the Accounts tab to aggregate all your banking accounts for balances and transaction history, access real-time, instant budgeting and automated savings.
Activity page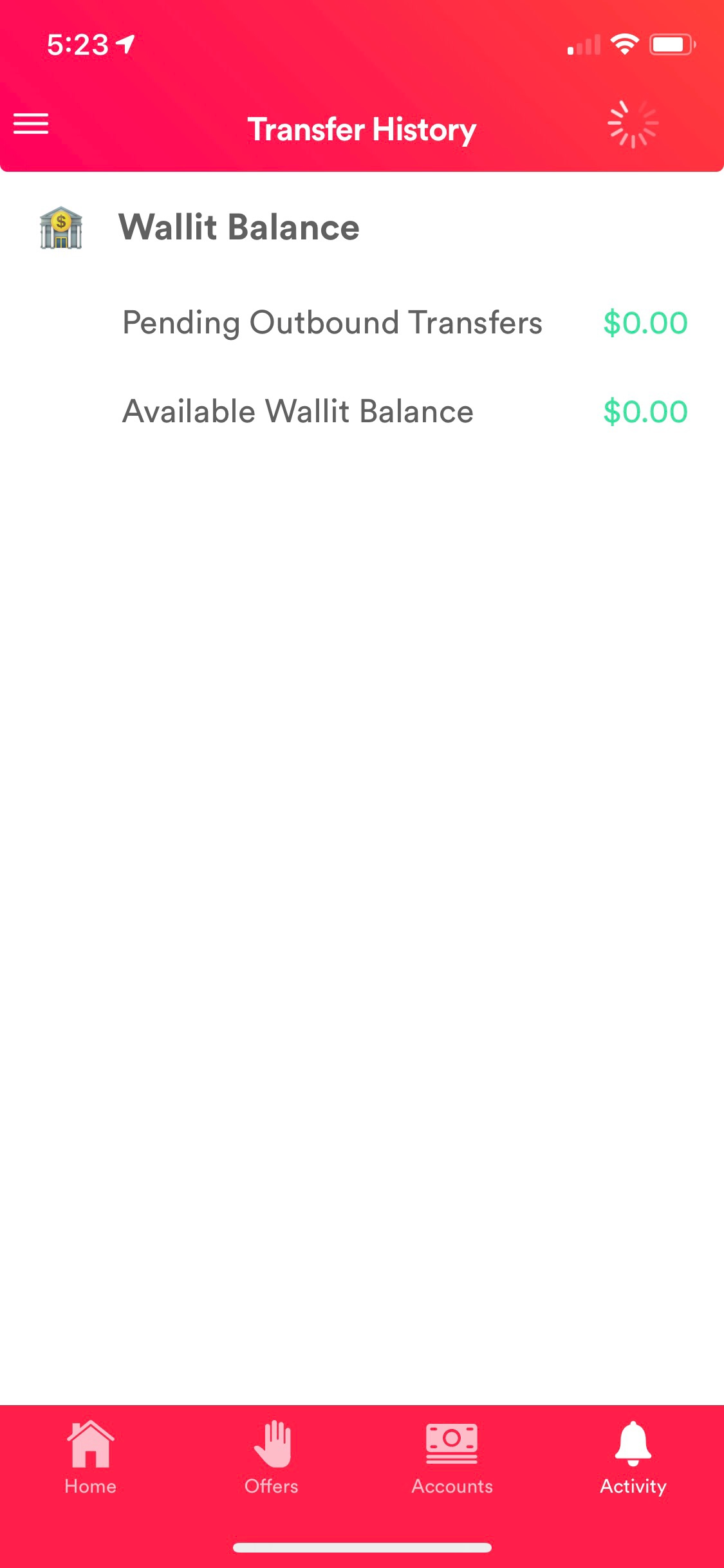 Activity
From the Activity tab, you'll see all fund transfer activity into and out of your Wallit balance.

Peer-to-peer transfers is coming soon!

Navigation and shortcuts
Navigate Wallit on your smartphone with simple gestures and shortcuts.
Access the Wellspace Admin
From any Nav bar tab, tap the main Menu button in the upper left to switch between your Wallit and your wellspace.
Jump to Accounts
From the Home, tap the $0.00 button in the upper right corner of your screen to jump to your Accounts tab. You can also tap the Accounts menu option from the Profile page.
---
Wallit
Where wellness happens.