Wallit is a single place for your team and for your well-being. To help you get familiar with using the Wallit app on your desktop, we'll walk you through a few important features. And if you use Wallit on your iOS or Android smartphone, check out our guide for the Wallit mobile experience.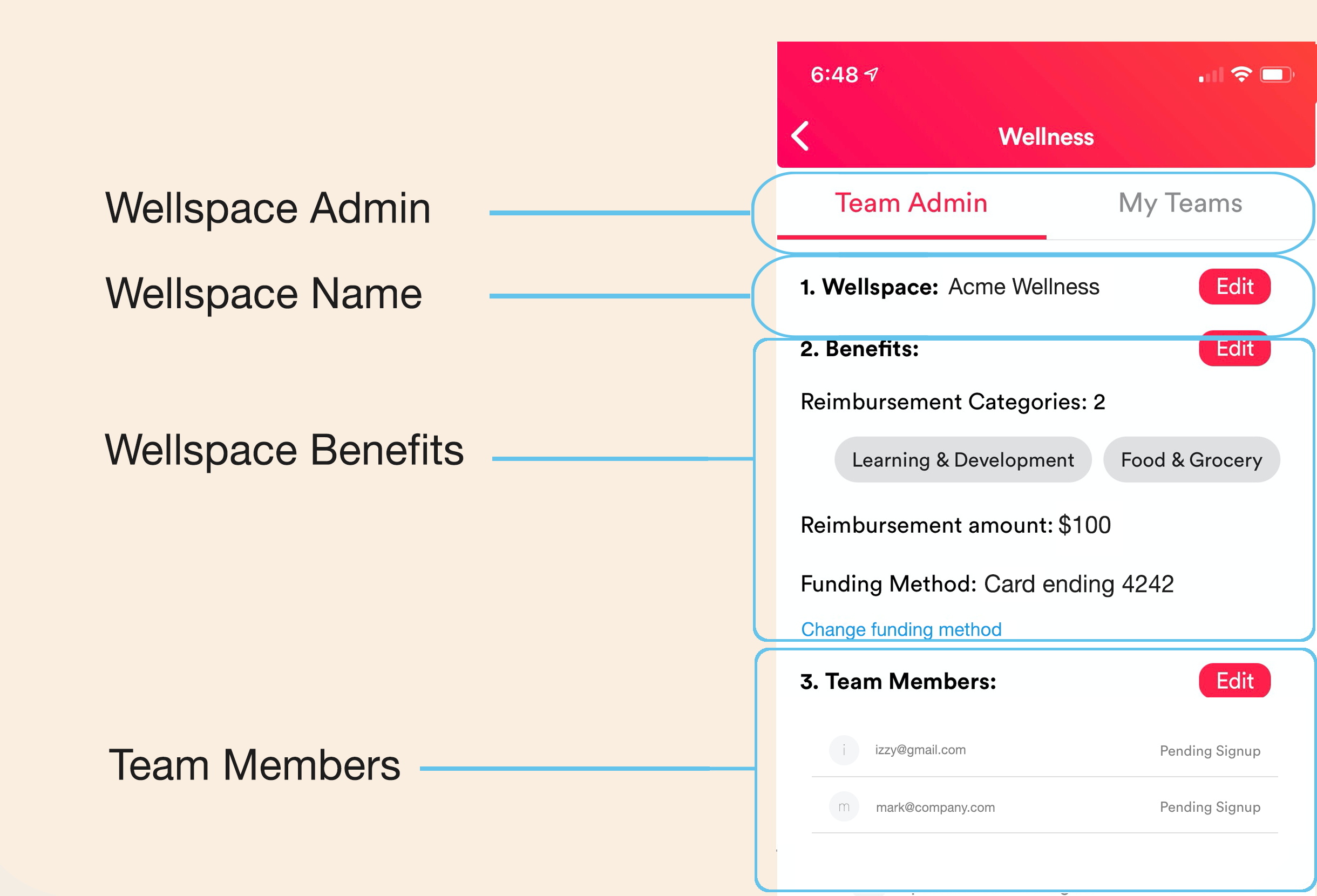 1. Wellspace Admin
Add and manage your wellspace for your team or company. You and your team members will be able to see your wellspace benefits on the "My Teams" page.

2. Wellspace Name
In Wallit, every wellspace has a name and you get to name yours for your team, department or company-wide. Here are some examples:
Company-wide (e.g., Acme Wellness, Company Flexible Benefits)
By Category (e.g., Food, Fitness, Pet Insurance)
By Department (e.g., Sales, Marketing, Finance)
By Office location (e.g., San Francisco, Boston, New York)

3. Wellspace Benefits
Customize your team's benefit program by choosing your reimbursable categories and monthly allowance amount.
Categories:
Family Care (e.g., Bright Horizons, Care.com)
Learning & Development (e.g., Udemy, Coursera, Lynda)
Food & Grocery (e.g., Whole Foods, Stop & Shop)
Health & Fitness (e.g., Fitbits, Peloton, online fitness memberships, virtual workout classes)
Work From Home Essentials (e.g., Apple, Amazon, Staples)
Student Debt Repayment (e.g., Sofi, Credible, Earnest)
Tip: Other categories available in Wallit Paid and Enterprise plans include, Insurance, Dental Care, Vision Care, Pet Care, Internet, Mobile Phone, Travel, Charitible Giving, Financial Wellness, and more.
Allowance:
Select your monthly benefit allowance at any amount (e.g., $25, $50, $75, $100)
Remember, you can customize your benefit program for individual categories by assigning a specific allowance amount for things like Food & Grocery or for Insurance (e.g., Dental Pet, Cyber, Accident or Critical Illness, and many more).

4. Wellspace Team Members
The last step is to invite your team by adding their emails. We recommend using their work email addresses.

Hyper-personalized wallet for every member of your team
Shop local offers in your area. They will appear in your app when that particular business location is participating in one of our cash back programs. Simply visit the local merchant you found listed in the app at the specific street address, pay for your purchase with your connected card, and you will receive cash back after you have made your purchase..
Shop online offers through the Wallit App. Valid online offers, their specific discounts and any restrictions will be displayed in the Online Offer details. Find an offer, tap on the Claim button, and complete the purchase through the app during the same shopping session. We track and validate your purchase and you get your cash back.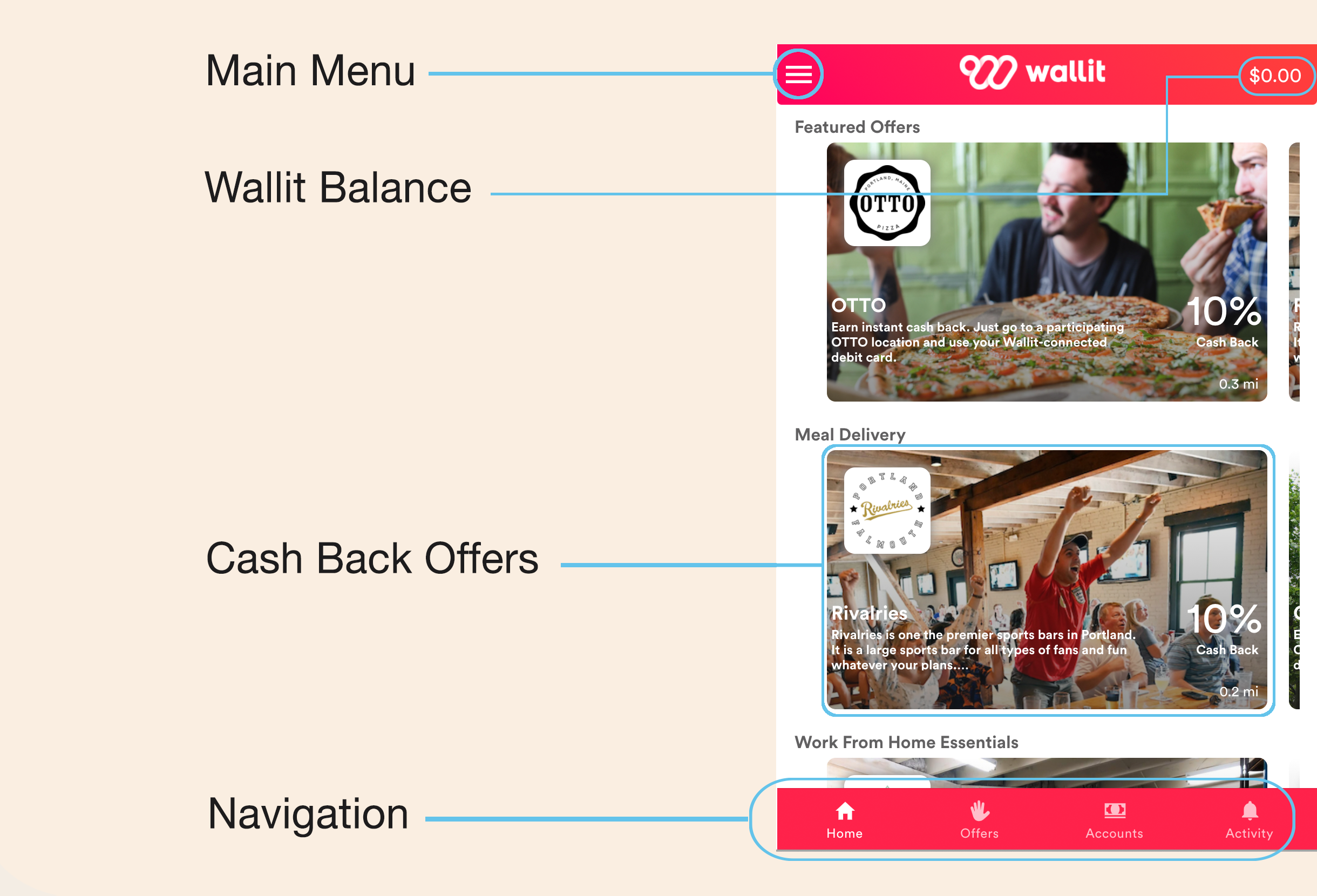 1. The main menu
Use the main menu button in the upper left hand corner of your screen to quickly access your profile, settings, and your wellspace. Manage your wellspace in the Wellness menu option.
From the Profile menu option, you can check your total year-to-date and lifetime cash back in your Profile, edit your profile, manage your notifications, and update your preferences. You can also access the Wallit Help Center.

2. The Wallit balance
The Wallit balance is where we put your cash back. Our Wallit offers are not like traditional programs with coupons you have to cut out or loyalty cards you need to bring with you. Once your debit card is connected to your Wallit account, we validate your purchases through card transactions and automatically find your available offers and discount savings anywhere you shop. The offers come in the form of cash back that we deposit directly into your Wallit balance. It's that simple.

3. Cash back offers
Wallit offers are found in the app and will earn you cash back when you pay with your linked debit card that is connected to your Wallit. You get paid to eat at your favorite local restaurant, make in-store purchases to improve your wellness, or shop online from the comfort of your home. Imagine what you can do with all that extra cash you save just from using Wallit!

4. Navigation
Use the navigation bar at the bottom of Wallit to jump between the Home, Offers, Accounts, Activity tabs to find cash back offers from our partners online and in-store, cash back offers from our partners like Groupon, and your balances and transactions from your connected banking accounts.
---
Wallit
Where wellness happens.