Wallit is a card-linked lifestyle benefits platform. With Wallit, people can choose the wellness and lifestyle options that are meaningful to them, and find the information they need to be at their best — all within a secure, enterprise-grade environment.
Categories
Below is a full list of the smart spending categories we support (in no particular order):
Food & Grocery
Family Care
Health & Wellness
Work From Home Essentials
Pet Care
Mobile Phone
Internet Services
Mental Wellness
Meal Delivery
Learning & Development
Footwear & Apparel
Events & Experiences
Charitable Giving
Finance
Commuter
Automotive
Travel
Home & Life
Student Debt Repayment
Productivity
Dental Care
Insurance
Vision

Your Wallit wellspace
A Wallit wellspace is made up of categories, where team members can shop for products and services to improve their well-being together. Keep reading to learn about the key features of Wallit.
• Centralized, personalized benefits
Naturally, Wellness isn't one size fits all. Wallit's flexible, centralized benefits program means every employee gets to self-direct their insurance, benefits, and rewards by choosing the retailers and brands that work for their lifestyle and personal preferences
In Wallit, Wellspace Owners can customize a company benefit programs with different spending categories or build their own. Companies can take better care of their employees with automated and individualized allowances for lifestyle, wellness and insurance benefits in every category: insurance products, health and wellness, food services, family care, work from home essentials, learning and development, and more.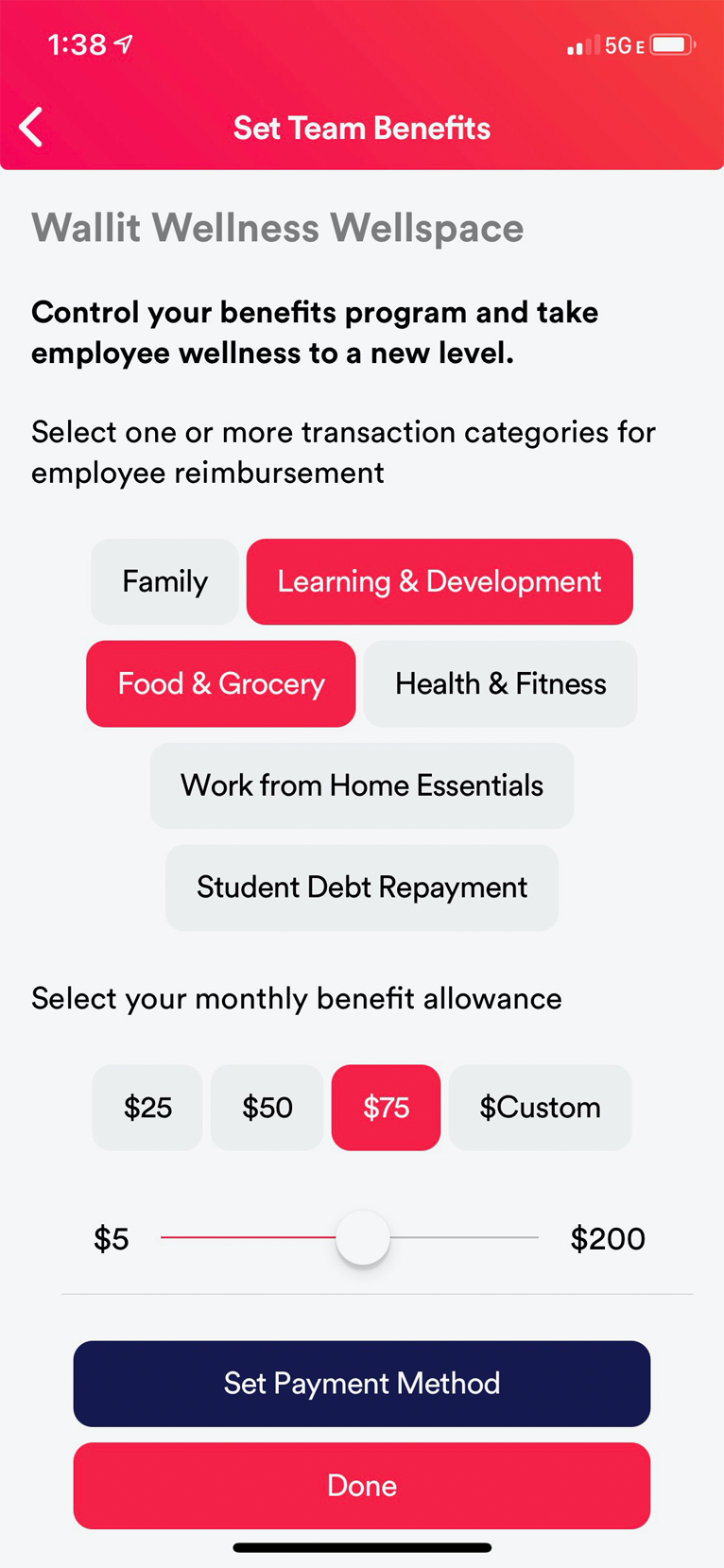 • Scheduled allowances
Employers can use Wallit to create a flexible, centralized benefit program that can fit almost any budget. After selecting the categories, Wellspace Owners decide on a monthly or annual allowance that they'll make available to employees – average amounts range from $50 to $500 per employee per month, but you can customize allowance amounts based on your organization's needs.
• Bring your own card (BYOC)
With Wallit, employees use their existing credit or debit card from any financial institution in the North America, UK, and Europe. Our card-linked approach enables members to use their own card to automatically get their purchases validated and reimbursed. This not only offers a superior user experience for employees to increase adoption and engagement, it reduces operational costs and eliminates administration-related overhead for the organization.
• Wallit's Merchant Marketplace
We curate partnerships with leading brands and retailers in each of the categories in order to help our members align their insurance, lifestyle and wellness benefits with their personal and professional goals. With Wallit's marketplace you can bring all your benefits into one place and stay connected to your team, even when you're working from home. From healthy eating, fitness, mental wellness and family care, connecting your work and life priorities to Wallit helps you be your best self.
Wallit's pricing plans
The free version of Wallit gives your team access to Wallit's standard features. For more advanced features, choose from one of our two pricing plans:
Plus
For larger businesses or those seeking advanced administration functionality that gives teams even more control
Enterprise
For very large businesses, those with additional administration needs or in highly regulated industries
The right plan for every team: Learn more about Wallit's pricing plans.

Get to living your best self with Wallit
Does your company already use Wallit?
Read our guide to getting started for new members to learn how to download the Wallit app, join your wellspace, and set up your profile.
Are you looking to set up Wallit for your company?
Read our guide to getting started for wellspace creators to learn more about how to set up your wellspace, what it means to be a Wellspace Owner, and how to invite team members.
---
Wallit
Where wellness happens.